There is no better feeling as an archer than getting your son or daughter their first 'real' bow, this feeling even applies if you are not an archer yourself. Every parent looking for a bow has similar questions. How do I know I am getting value for money? What is the best beginners compound bow for a young archer? And other similar questions, read my review of the most popular compound bows for juniors to answer these questions and more.
Archery is one of the most rapidly expanding sports at present and is also one of the safest sports for your children to learn. Choosing your child's first bow is an important component to their archery experience, and can determine how enjoyable their initial exposure to be. The bows that I have detailed here are basically suitable for ages 8 through to the mid-teens and are adjustable in draw length and weight to grow with your child.
I have tried to locate the best available beginners compound bow packages out there. There are a lot of great option out there and I almost feel like I could just close my eyes and pick and I'd do alright, but I don't want just a "good" bow. I want to identify the best bow for your child. So continue reading for my beginners compound bow review.
I'm not going to rank these because they're all really good and each has their own benefits. However, it is important to remember that each person a little different. But, throwing all that aside, I'm going to look for the durability, quality of the bow, and quality of the accessories to come up with what I think are the best beginners compound bow packages. So that's a the background of what I'm I have tried to achieve with this review.
Before you purchase any bow I'd recommend that you find out your child's draw length and making sure that there is a little room to grow. The draw length is all relative to the length of your child's arms. It is then a simple as dividing the arm span by 2.5, for example an arm span of 50″ = a draw length of 20″ (50/2.5=20).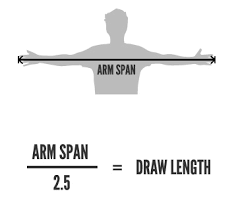 The next component a person must think about is the draw weight, how much force needs to be applied to be able to draw the arrow back before shooting. It is important not to over bow, that is the draw weight is too heavy for the archer. Below is my guide for beginners using compound bows.
Youth (Age 8 to 12) 10 – 18 pounds
Teens (Age 12 to 14) 14 – 24 pounds
Older Teens (15 to 18) 20 – 30 pounds
Young women and male teens 25 – 40 pounds
These weights are dependent on the person size and strength and are there an approximate guide only.
With each of the bows I have included a link to the product reviews on Amazon so you can go and read the reviews from other parents and can check it out for yourself .
The Bows
Diamond Atomic Bow
Diamond Atomic Package Youth Model RH Blue
This is a great bow for beginners, it is particularly suitable for younger children who have a short draw length and who need a lighter draw weight. As a beginners set this bow comes with 3 carbon arrows, a 3 arrow quiver and a 3 pin bow sight. The main specifications of this bow are as follows:
Weight 2.5lbs
Draw weight 6 – 29lbs
Draw length 12″ – 24″
Additional points of interest
Easily adjusted without a bow press
Comes in right and left hand options
Changing draw length changes weight
The pros
This is a great bow ideal for the younger and smaller crowd. It is well-balanced, the bow is sturdy and of good quality. Weight adjustment is easy to accomplish.The bow is mostly setup when it arrives and only needs some quick adjustments to get you going. Before use ensure that everything is attached correctly and you have set the draw length and weight correctly. All in all it is about 15 minutes and you are ready to go.
The cons
This is a high quality bow and is reasonably expensive, however it is a good bow. The biggest drawback I found was the bow sight, it is not as durable as the rest of the bow. The maximum draw length is 24″ which will probably be the limiting factor in how long your child can use the bow.
Diamond Atomic Package Youth Model RH Blue
It's priced around $200 on Amazon.
Conclusion
I'd easily recommend this to anyone who is looking for quality in a bow. If your child likes archery, then this bow is a great choice. If it's a passing fad, you might want to try one of the cheaper ones I have listed here.
Barnett Banshee
Barnett Banshee Junior Archery Set
This is a great beginner bow for young kids and will get them started having fun right away. All you need to do is put things together and off you go. This is a fun little bow that is well made and good for young children. This bow set comes with 2 arrows, finger rollers and an adjustable pin sight. It also has the added advantage in being both right or left handed all you have to do is take the handle and flip it upside down, particularly useful if you have left and right handed children.
Weight 3.0lbs


Draw weight 25lbs

Draw length 24″ – 26″
So getting down to business. You want to get a good little bow for your child. At around $40, this represents real value for the money. You end up with a small compound that is very durable and probably the best choice for someone looking to get started. As a compound, it helps make the bow easier to pull back and you have an adjustable draw length so it works well for different size children.
Here's the link so you can check it out on Amazon – Barnett Outdoors Lil Banshee Jr. Compound Archery Set
.
I believe that children aged 9-12 should be able to use this bow, but that depends on the child, the main concern is the 25lb draw weight. For the price, you really can't get a better bow for starting your kid in archery and it's better than spending a couple hundred bucks before finding out if they really like archery and want to keep doing it.
Genesis Original Bow Kit
The Genesis bow is one of the most popular bows for young archers. The Genesis Original bow is the only bow approved for use in the National Archery in Schools Program (NASP). So if your child is keen to do archery at school this is the bow to start with. This bow bridges the gap from child's toys to a real bow. I shot one of these when I was young and it was just as easy back then as it is now.
I always recommend getting a kit when you're getting your first real bow. It comes with everything needed to start shooting right out of the box. That's why it makes an excellent gift.
This bow is a solid piece of equipment and is machined from aluminum resulting in lightweight, providing balance whilst maintaining durability. The riser is drilled and tapped ready to attach your accessories. The kit includes belt quiver, armguard, and 5 aluminum arrows. It also comes in right and left hand models.
Weight 2.95lbs
Draw length up to 30″
Draw weight 10 to 20lbs
Adjusting your Genesis bow is simple and only takes a few turns of a 3/16″ Allen Wrench to adjust the draw weight. As this bow features 0% let-off, this results in the ability to adjust the draw length as well which is fantastic as your child grows so will their draw length. The bow also comes in a range of colors.
This bow is available on Amazon for around $200, Genesis Bow Kit
Crosman Elkhorn Jr. Compound Bow Kit
If you're looking for a real compound bow for a young archer, then this might just be the answer you are looking for. The Crosman Elkhorn Jr. Compound Bow
is an ideal bow for a young archer. It features a low draw weight, but also comes with all the accessories needed to be able to get started. All you'll really need is something to shoot at.
Weight 3.3 lbs
Draw length up to 26″
Draw weight 17-21 pounds
This bow is for children who don't want a toy anymore and who feel they are ready for a full-fledged compound bow. It is a perfect bow for that category. With a light draw weight, it works well for most kids 9-13 depending on the child.
Note: Some assembly IS required with this bow kit.
The bow represents good value and is rugged enough for the normal abuse a child's bow may receive. The cable string with the bow is made for no maintenance which adds to its reliability.
The accessory package works well for the new archer who doesn't already have the equipment, however you will probably want to get some extra arrows as it only comes with two arrows.
This bow is available on Amazon and priced between $30 -$60 ($30 on special). My advice is to spend some extra dollars on arrows when you get it.
Overall this bow is really good value for the money.
Bear Archery Brave
This bow is again a good quality bow from a well known bow maker – Bear Archery. It is of good solid construction and will stand up well to the normal child's use. Bear Archery say this bow is suited to ages 8 and above and features a peak draw weight of 15 to 25lbs with 65% let-off.
Weight 2.0 lbs
Draw length 13.5″ – 19″
Draw weight 15 – 25 lbs
It comes with all the accessories required to be able to get started straight away. The following items are included:
Finger tab
Whisker biscuit
Single pin sight
2 safety glass arrows
The drawback of this bow is the draw length is limited to 19″ and therefore your child will out grow this bow faster than the others featured that have a longer maximum draw length. This bow is only available in a right hand model.
Bear Archery-Brave
can be purchased from Amazon and retails for around $60-$95
This is a good bow, however, I recommend that you get some extra arrows when purchasing this bow as it only comes with 2 arrows in the pack.
Conclusion
The five bows I have featured are all suitable for your child's archery needs, so the choice is yours. If you use the links through to Amazon you will be able to read the comments from people who have purchased these bows already and that may assist your final decision. Before purchasing one of the more expensive bows I would want to be sure that it is going to be used for a period of time and is not just a passing fancy that children have from time to time. If you intend for your child to participate in the NASP program then you really do need the Genesis Bow Kit
.
I wish you well with your decision and may your child enjoy their new bow.