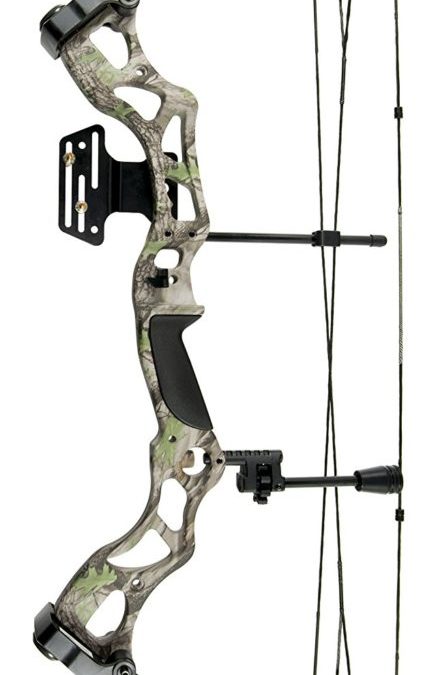 The Best Compound Bow 2017
Today we're here to find out what is the best compound bow 2017. If you wish to level up your archery skills, you can try using a compound bow. This type of bow uses a levering system that gives the bow a unique let-off capability. Choosing the best compound bow of 2017 will not only promote efficiency, but will also help you develop more of your skills to land those arrows with precision.
Those who are interested in finding the best compound bow for hunting, for instance, always choose based on some important considerations. Using their criteria, bows should be: compact for easy control, fast enough to have the flattest possible trajectory, lightweight, and smooth to shoot. It should also be quiet enough so as not to alarm their prey while hunting.
To help you out in your search, here is a short list of options for the best compound bow 2017:
This is a great option and runner up for best compound bow 2017. If you are just starting out or if you do not want to spend an arm and a leg then this is the compound bow for you. This bow is made by Man Kung from Taiwan.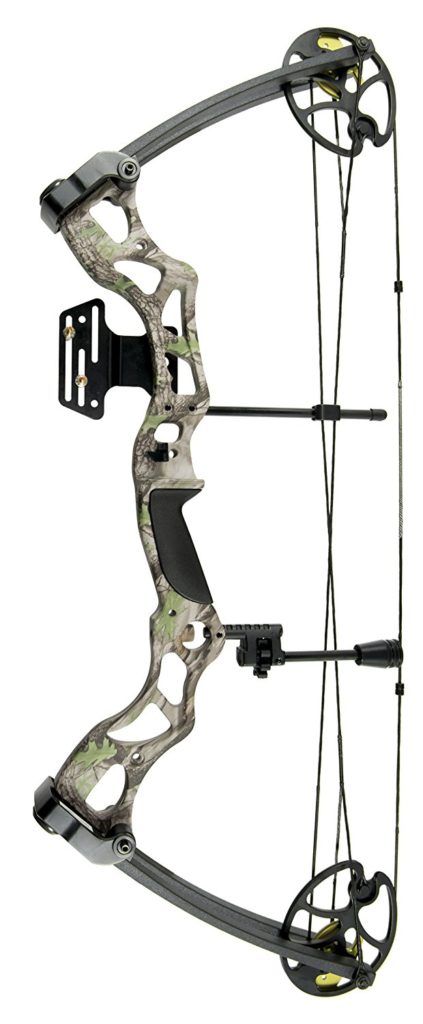 Man Kung has been in business for decades and is trusted in manufacturing parts and add-ons for many US based big brands. The fact that this one is crafted in Taiwan is definitely not a downer.
This is one of our runner ups for best compound bow 2017 and is an excellent bow across the board. Its draw weight goes up between 50 to 70 pounds. It has an adjustable draw length of 25 inches to 31 inches. This makes it easy to adjust even for beginner hunters. It shoots at a staggering speed of 310 fps.
This bow is of high quality and is made from a modern composite material. It is sturdy and durable enough for serious hunters. The aluminum riser is carefully crafted with lots of cool cut outs that give it a modern look. The pack includes accessories like an arrow rest and a peep sight. These, however, can be bought separately if you wish.
Bow performance is smooth, with bearable noise and vibration when shooting. This bow is solid enough for bow hunting with an axle-to-axle (ATA) length of 35 inches.
This bow also has an aluminum dual eccentric cam system for added durability. It is not only good for hunting but for bow fishing as well. You simply have to attach a bow fishing reel to the bow's pre-drilled mounting holes. This hunting bow from Leader Accessories comes in a stylish autumn camo or black finish.
The list of pros for this product still outweighs the cons, making it a worthy option for anyone looking for the best compound bow 2017. To compare:
Pros
Draw weight and length can be adjusted
Provides great precision
Sturdy enough to be used for back-to-back archery sessions and hunting
Can be utilized for bow fishing
Its great pacing makes it a good option for hunting sessions
Its pricing is affordable
Availability of several color combinations
Cons
Limited to right-hand users
Extra accessories should be bought separately
Might be a little heavy for beginner archers
Overall, the Leader Accessories 50-70 Hunting Compound Bow is a great steal for a price of $250. It is well crafted, shoots very accurately, and can easily keep up with models that cost double the price or even more.
This compound bow is our second runner up for best compound bow 2017 and is good for hunting and can be used both by beginners and veterans. Its draw weight ranges from 19 to 70 pounds, while its draw length goes from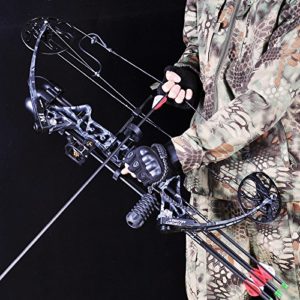 19 inches to 30 inches. It has an IBO speed of 320 fps and an ATA of 28 inches. The brace height measures 7 inches, covering an 80% let-off.
It is sturdy and durable at a bow weight of 3.31 pounds and an aluminum bow riser built. It has a CNC 7075-T6 bow cam can easily be adjusted in just two minutes, even by kids. Its great performance is assured by the high quality of materials used in its limbs and it bow string, imported from Gordon Composites in the USA and BCY USA respectively.
Since this compound bow comes as a package, you can find the following already included in your purchase: bow, five-pin optical bow sight, brush arrow rest, braided bow sling, rubber stabilizer, bow release, D-loop, peep sight, Allen keys, string wax, bow stand, 6 pieces of arrow quiver, limb dampers, arrow puller, and a carbon mix arrow (18" x 30″). All these accessories amount to a total of $200.00 in value. This is already a great deal for a bow that comes with everything you need.
What is great about this bow is that it gives you flexibility when it comes to draw weight. With a range of 19 pounds to 70 pounds, it is suitable for all games (small, medium or large).  While some would tend to make the wrong assumption of this bow being an off brand bow or a low quality product because of its weight, this bow will prove you wrong. It will surely provide you a top notch compound bow complete with all the accessories.
This compound bow package from FBA Service is light and compact. It offers great value for money with all the additional accessories already provided in the package. Its durability is affected by how well the bow is used and maintained.
Pros
Good for hunting
Suitable for small, medium, or large hunting game
Great all-in-one package deal
Good product for a reasonable price
Cons
Some false perceptions and speculations on the quality of the product and its accessories
Available only for right hand version
Our third finalist and clear winner of the title best compound bow 2017. The Diamond Archery Infinity Edge Pro is crafted by one of the famous compound bow manufacturers in the world, Bowtech. This bow is specially designed for novice level archers, kids, and females. It has a wide variety of adjustable settings which is important while teaching archery to kids and ladies. It is also good for target shooting sessions.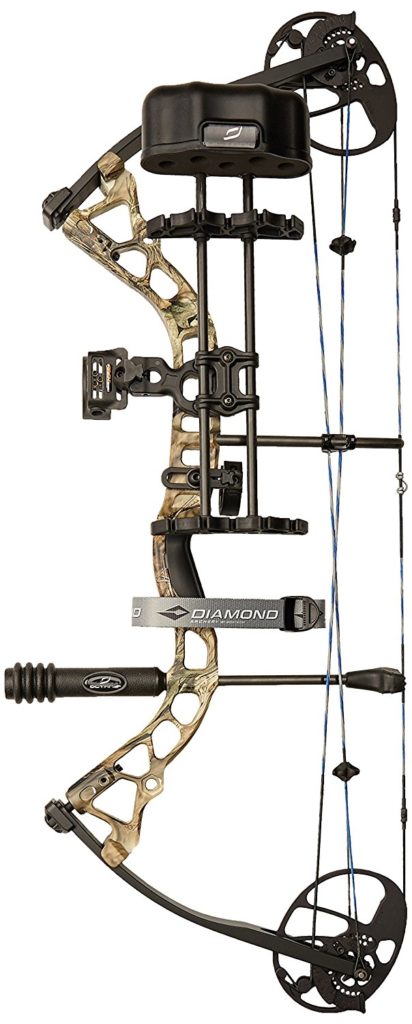 The usual package of the Diamond Infinite Edge bow package will give you everything you need to use the bow straight out of the box. It has a 3-pin tundra sight and a tube peep sight, making it a breeze to aim. The tundra sight's fiber optic lines are great for starters.
The 5″ ultra-lite octane stabilizer is a good add-on that does not have vibrations while shooting. This makes the whole draw cycle more steady and accurate. Apart from that, it gives more balance to this bow, further adding to its already comfortable draw cycle.
The package also includes the Hostage XL arrow rest, which has a simple design but is sturdy and has no mechanical parts. This is considered as an adequate arrow rest for starters.
The Dead Lock Lite Octane quiver with 5 arrows capacity is a fine and practical add-on too. It is easy to use and friendly for beginners with its quick-detach system.
A comfort wrist sling and a BCY string loop come in the package as well. The BCY Loop is attached to the part where the nock is on the bowstring. It is used to pull or hold the string with the use of a release aid. With this mechanical release, you will have a quicker release that creates less torque on the string from your fingers.
The bow supports dual cam eccentric systems which are elliptical in shape and are perfectly synchronized for a perfectly smooth, straight flight. The cable is also very smooth and is the perfect fit for beginners and women. The shooting IBO speed of the bow is 310 fps. As the bow is specially designed to be lightweight in nature and comfortable to shoot.
Once released, there is a built-in string stopper which will protect the bowstring from vibration. There is also zero-hand shock which is another highlight of this product. Normally, light vibrations or shock will be felt by archers in their hands after shooting the arrow but this compound bow does not pass the shock or vibration to the users. This is actually one of the reasons why it is preferred by women and children.
The Diamond Archery Infinite Edge is one of the most convenient compounds because of its adjustability. Its draw length can go from 13 inches to 30 inches, while its draw weight can be adjusted from 5 pounds to 70 pounds. Set at 70 pounds draw weight, 30 inches draw length, and 310 fps IBO speed using 350 grain arrows, the Infinite Edge Pro produces 74.7 of Kinetic Energy (KE). This means that it is capable of going for the roughest game with no problems and is suitable for hunting activities.
The axle-to-axle length of the bow is 31 inches, which is appropriate if you are above 5.10 feet in height. At 3.1 pounds in bow weight, it's considered as a standard weighted bow. While there are bows that are lighter or heavier, 3.1 pounds is considered to be the perfect weight for an archer to shoot their target with better precision and power.
The compound bow could also be used for bow fishing, if you wish. The Infinity setting makes this compound fit for bow fishing as it results to a zero let-off. Therefore, it will maintain most of its peak holding weight for the whole draw-circle. This is important in bow fishing as you need to be able to shoot swiftly.
The bow is available in three different color options, a great plus for those who are looking for more stylish options. Depending on their taste and preference, users can choose from: Mossy Oak Infinite, Black Ops and Pink Blaze.
The product definitely speaks for itself as it is incomparable with others considering the quality and its reasonable price of less than $400, just a few of the many factors that make it the best compound bow 2017.
Pros
Lightweight and highly adjustable compound bow
Great build quality for the price
Produces bearable vibrations while shooting
A highly balanced bow which provides perfect shots
Adjustable draw weight and length
Best for beginners and seasoned archers and hunters
Cons
Need to manually install the peep sight
Tundra sight and arrow rest can be improved
All in all, the Diamond Infinite Edge pro compound bow is one of the most versatile bows in the market. It is user-friendly for all ages, experience levels, and for whoever wants to start taking up archery as a hobby.
Choosing the Right Bow for You
Looking for the best compound bow 2017 seems to be challenging due to the wide array of models and manufacturers available out there. Regardless of your experience, age, and proficiency level, it is best to try as many bows as possible before you actually buy your own equipment. Getting a feel of the various bows in actual use will help you manage your expectations and be realistic in your choices.
Compound bows are versatile, light, and overall a wonderful piece of equipment for hunting and target practice.
Look for a bow that is simple, fairly priced, and made of quality materials that will surely help you learn the basics of archery. You can just then transition into a more advanced bow when you are already comfortable with shooting or when you are ready to begin competing. Choosing to have the simple bow as your starting equipment can help save a lot of money in the long run.
Starting out with more complicated equipment is not preferable as your needs might change as your skills improve. This is true especially for young learners that are just starting to discover the sport. However, you should ensure that the first compound bow that you buy and use gives you outstanding performance. Yet it should be flexible enough with either a non-specific draw length or an adjustable draw length. This will allow you to make adjustments in your form as well so you can work on improving your game.
Other important considerations that you should include in your criteria are: comfort; ease of handling; controllable and light draw weight, bearable bearable noise and vibrations, and affordable. Your choice of the best compound bow 2017 should be flexible enough to adjust to your form and skill as you grow within the first 6 months to a year of shooting.