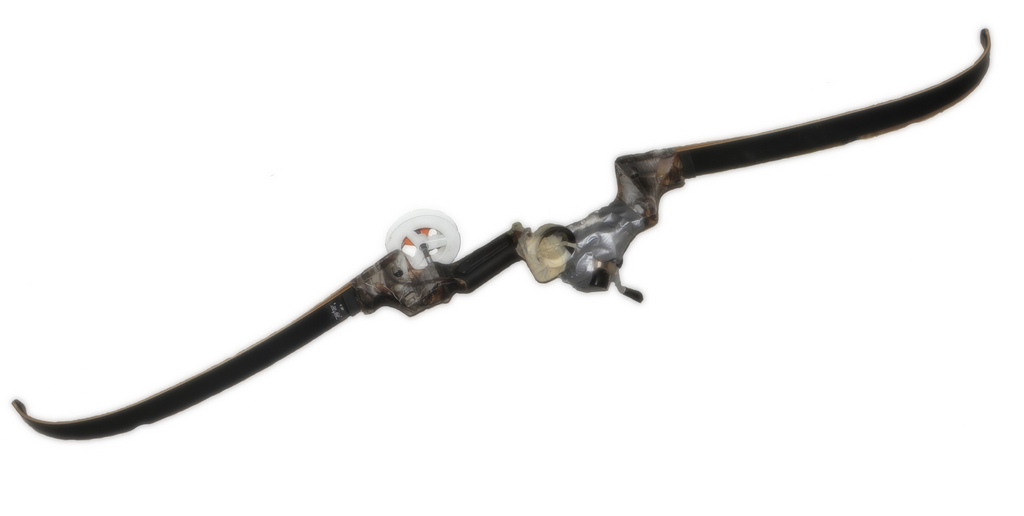 11 Top Selling Recurve Bows Under $200
If you're an archery enthusiast on a budget then you need to review this list. Anyone who's looking for a good value recurve bow under $200, then you are in the right place. We have compiled a list of the top selling recurve bows for 2015 featuring their main selling points. You can then make your own decision regarding which is best for you. To assist in the process the list has been divided into 3 sections; recurve bows under $200, under $100, and under $50. Without any further ado, let's get started.
Recurve Bows Under $200
If you're looking to spend as little money as you possibly can, then this bow is one of the best to go with, if not the best. It's suitable for many different activities, including hunting and target practice. If you have a sensitive pair of hands, you'll be delighted to know that this particular model has a very comfortable grip.
This bow is also pretty durable, since it's made out of aluminum. Since it consists of 3 parts, it means that you will have no trouble carrying it around no matter where you go, and it also means that you can store it pretty much anywhere. If you're a beginner and are unsure as to whether you'd want to continue with this hobby, this is a huge plus, because you can just store it under the bed or something after you're done shooting.
To recap:
Easy to store and carry around
Beginner-friendly
Comfortable grip
Good price-to-features ratio
Multiple draw weights
The first thing you're bound to notice on this bow is how beautiful it is to look at. It almost looks like a piece of jewelry. That being said, its looks are not the end of what it has going for it. To start off, it's good to know it comes either in 20, 25, or 30 lbs. These draw weight options are really important, because women will typically want to go with a lower number than men.
This model also has an ambidextrous design, so both right-handed and left-handed users will be able to enjoy it. This is a take-down bow, which means that carrying it around or storing it is incredibly simple.
It's made of laminated wood, which is pretty sturdy. The amazing thing about this bow is that it hits pretty hard, which is almost unusual for its draw weight, so this is a perfect choice for those who are looking for maximum power while still retaining the comfort level when using it.
The only drawback is that this bow is rather large, and might not be that great for those who have a shorter stature. However, a lot of archers have plenty of success shooting bows that are much taller than they are, so you really should try it out first.
To recap:
Ambidextrous design
Affordable
Different draw weights
Elegant-looking
Laminated wood construction
Hits hard
This is another budget-friendly bow, and it has different draw weights, with 30 pounds being the minimum, and 55 pounds the maximum. Upon taking a first glance at it, you immediately get the feeling that this bow was taken straight out of Lord of the Rings or something similar, because how traditionally-wooden looking it is, which is a great feature for purists.
The bow is very versatile, and if you'd like to attach something extra to it, you will be able to do it without any problems. But if you're just looking for something beginner-friendly that works from the get go, this bow pretty much delivers it.
Being constructed from Maple and Olive Dymondwood, this bow is as sturdy as it gets while still retaining its natural beauty. The limbs tend to be on the longer side of the scale, but since this bow is take-down, this really isn't a problem, since you'll be able to carry it around and store it wherever you want to.
It's suitable for hunting too!
To recap:
Customizable
Suitable for both beginners and experts
Very budget-friendly
Traditional-looking
Sturdy
Limbs will remain in perfect shape even after 2 years
Another fascinating piece of equipment for archers who prefer the traditional wooden look of their bows. Having the option of having either 40 pound or 50 pound draw weight, this bow was designed for those who are very serious about their hunting. However, these draw weights might make the bow a little less suitable for beginners.
It might be a little more difficult to carry around this bow, because it has a one-piece construction. If you're unsure what draw weight you're looking at when you see one in person, just inspect it closely. You should see a huge number being engraved into the wood that will tell you the exact draw weight.
This bow is perfect for any string, and you can even customize it if that's what you're looking for. In any case, this thing can pack some serious punch.
To recap:
Traditional wooden design
Suitable for serious hunters
Accepts any string or accessory
Packs quite a punch
One-piece construction
This bow is basically a perfect starting point for beginner archers, sort of like a starter kit, because you also receive a quiver, an instruction book, and 4 arrows with your purchase. As a matter of fact, it's a great choice for kids who are at least 8 years old. Available both as a left-handed or right-handed version, so no-one is left out of the equation.
You also get to choose between draw weights ranging from 12 to 40 pounds, which truly allows everyone to find a perfect bow for themselves. And when you get stronger, you can simply replace the limbs which should up the challenge by quite a bit.
The downside of this bow is that it's not really made for serious hunters, only for outdoor target practice, which is still fine (depending on your needs of course). It's also a lot lighter than several other bows, which makes the user experience that much more enjoyable.
To recap:
For outdoor target practice only
Great selection of models
Lightweight
Upgradable
Affordable
If you're looking for a traditional bow for young beginners, this is a great choice. It's still popular in 2015, even though it was already introduced in the 60's. Nearly every bow expert has learned and refined his craft by starting out with this model, so it definitely has a rich history.
This bow is a pleasure to use, and a great bow for learning. As far as its construction goes, it's worth noting that its hand-finished and satin-coated. The bow string is already included, so it's pretty much ready to go once you purchase it.
To recap:
Grab and go design
Hand-finished
Rich history
Great bow for learning
Recurve Bows Under $100
This is the perfect bow for younger archers, since its draw weight totals at merely 22 pounds. It's also very budget friendly. This particular model has ambidextrous design, which means it's suitable both for left-handed and right-handed people.
Upon picking it up and holding in your hands, it gives a very sturdy and robust feel. Because of its draw weight, however, this is not suitable for those who are serious about hunting. But that's okay, since this model was designed for younger people who are just seeking to get their first piece of equipment before getting more serious with their hobby.
To recap:
Beginner-friendly
Suitable for younger people
Affordable
Ambidextrous design
This bow is ideal for hunters and also suitable for those who just want to have some fun outdoors. It's made out of fiberglass and maple, which should be sturdy enough.
Because it has different draw weights (between 26 and 36 pounds to be exact), it's suitable for both children and adults. It's easy to put it together and apart, which shouldn't take more than a few moments. The bow tends to be very beginner friendly, and is suitable even when you get past the beginner stage and want some extra challenge.
The handle is beautifully sculpted and feels great when holding.
To recap:
Suitable for hunters as well as hobbyists
Made out of fiberglass and maple
Durable
Extra-affordable
Beginner-friendly
Recurve Bows Under $50
This is one of the most budget-friendly options for young beginners. It might not be as powerful as its competitors, but it's very non-demanding to use, which makes it a great entry-level bow. And if their hobby ever becomes something more serious, they will be able to get a new one in time. But starting with a more expensive bow is never a good idea, because they tend to require more strength to handle, which is very unpleasant for those who don't have as much arm-strength.
Anyway, this bow has ambidextrous design, so your kids will love it, no matter which hand is their primary one. The experts might criticize it, but for its price and its target demographic (kids), this is still a great buy. The 10 to 20 pound draw is just not going to be a hurdle, not even for the youngest kids.
It's worth noting that you receive some extras with your purchase, which includes setup tools, a storage solution, and more, which makes this a perfect starting kit for young archers. And when your kids grow up and have kids of their own, they can use the same model to teach them the fine art that is archery.
To recap:
Budget-friendly
Very low draw weight
Suitable for kids
Smaller size
Ambidextrous design
This is probably the cheapest bow listed here, since you can get it around $40. Because of the price, you really can't expect this to be professional-grade hunting equipment, but then again, it's not a toy either. If you'd like, you can pay a tiny bit more to also receive an arm guard, some arrows, a target, and some other goodies, which is the perfect starter kit for kids over 12 years of age.
It has ambidextrous design, and you can choose among several draw weights, from 20 to 29 pounds. This bow is available in different sizes, so you can get one that goes along with the size of your kid perfectly.
It's also very lightweight, which enables the user to focus more on technique rather than fighting with the bow all the time. In any case, if you're a novice who's just starting out, or you want to buy your kids a great entry-level bow for the best bang for your bucks, this is probably the bow to go with.
To recap:
Great starter kit
Among the cheapest bows out there
Amazing for the money spent
Different draw weights
Ambidextrous design
Another modern-looking starting piece of equipment for the aspiring archer, but this one comes with a beautiful wooden handle. Its multi-laminate limbs are quite capable of withstanding all sorts of abuse and pressure and won't break as easily.
This bow is a take-down bow, which means you will be able to carry it around no matter where you go, then store it just about anywhere. Assembling and disassembling is done in seconds, and should not be that big of a problem.
To recap:
Affordable
Great for beginners
Modern design
Take-down
Conclusion
Hopefully, you now have a better idea what the top selling and best recurve bows under $200 are. By carefully going through the list, make a note about your favorite picks, then carefully analyze them some more in order to pick the best one available for your particular needs.
For example, some of these models are made mostly for target practice in mind, while some will be more suitable for the most serious among hunters. Still, everyone should find something for themselves just from this list of top-selling bows.
So what are your favorites?